TRAINING
Our flagship training program, Cema Training School of Translation and Interpreting (Cema), is widely recognized as the champion in the industry in terms of quality, numbers of trainees enrolled, range of training levels and geographical coverage, which was commended by senior Chinese officials such as Mr. Liu Huaqiu, former Division Director of the Office of Foreign Affairs Group of the CPC Central Committee. With its unique teaching method that combines comprehensive training and interactive learning, Cema is dedicated to cultivating top-notch translators and interpreters with global vision. The program has partnerships with several elite universities for mutual recognition of credits for translation and interpretation modules.
Seeing practice as both the means and goal of training, Cema creatively incorporates practice opportunities into Grouphorse's abundant translation and interpreting resources. Our training goes well beyond the classroom. Cema is the only institution in the industry to offer its interpreter trainees internships at the UN and on-site simultaneous interpreting practice or observation opportunities during APEC summits (12 batches as of November 2016) and G20 summits. To date, we have selected more than 1,000 trainees to practice or observe at top-notch international conferences both at home and abroad, from APEC summits to G20 summits, from UN conferences to the Sino-European Entrepreneurs Summit, from DEMO CHINA Silicon Valley Summit to the Global Innovator Conference, to name a few.
Cema regards its expert faculty as a crucial asset, and recruits only the most seasoned and accomplished interpreters, including members and staff of the International Association of Conference Interpreters (AIIC), the United Nations, the Directorate General for Interpretation of the European Commission (SCIC), and Department of Translation and Interpretation (DTI) of China's Ministry of Foreign Affairs. The most renowned instructors include:
-Ms. Xu Ya'nan, former ambassador, Director-General of the DTI, and chief of the Chinese division of the Department for General Assembly and Conference Management (DGACM) of the United Nations;
-Dr. Kevin Lin, Lead Interpreter (Chinese) of the Foreign & Commonwealth Office (FCO) of the United Kingdom and interpreter for the Queen;
-Ms. Ren Xiaoping, former ambassador and Deputy Director-General of the DTI;
-Ms. Lori Chen, senior UN interpreter and AIIC member;
-Mr. Cao Jianxin, professor and chief panelist of China's national interpreting competition; and
-Mr. Zhang Guangbo, senior UN and EU interpreter, and AIIC member.
Apart from its student-oriented packages of free retakes and a flexible combination of lectures in eight cities, Cema is also popular among insiders for hosting high-end conferences, including the Grouphorse Global Interpreting Summit, the Grouphorse National Interpreting Summit, the DTI Expert Lectures Series, as well as exclusive interviews for admission to UK universities job opportunities with PricewaterhouseCoopers.
The quality of Cema has been demonstrated repeatedly by the outstanding performance of our trainees in the China Accreditation Test for Translators and Interpreters (CATTI). Among others, Zhang Yiping was a national champion in simultaneous interpreting, and Xu Guangya, Hu Zhen and Hao Shuang received Level 1 in both interpreting and translation in just one take. Entrusted by the National Translation Test and Appraisal Center of the China International Publishing Group (CIPG), Grouphorse Beijing has been authorized for on-site enrollment since 2013, and later became the only authorized institution in Beijing in 2016.
As our flagship training program, Cema earned us the spot on the list of 29 practice bases for Master of Translation and Interpreting (MTI) candidates on July 19, 2014, which were jointly selected by the China National Committee for MTI Education and the Translators Association of China after three years of rigorous scientific research, screening and assessment based on the Specification for Qualification of Practice Bases (Corporate) for MTI Candidates published in July 2011. Making the list is a testament to Cema's successful training mechanism that has won official recognition.
The proven quality of our language service solutions makes Cema stand out from the rest as the preferred language service partner for:
-China National Offshore Oil Corporation (CNOOC), State Nuclear Power Technology Corporation (SNPTC), Commercial Aircraft Corporation of China, Ltd. (COMAC), and China Southern Airlines;
-Foreign-invested companies in China, such as Novo Nordisk, PricewaterhouseCoopers (PwC), Porsche, Mitsubishi, and Honda; and
-The embassies and consulates of Australia and Norway, as well as missions of international organizations in China.
Cema is also ground-breaking in the way it combines protocol knowledge with interpreting skills, giving our students an edge in understanding international protocol with the help of our guest lecturers:
-Mr. Lu Peixin, former ambassador and director-general of the Department of Protocol of China's Ministry of Foreign Affairs;
-Mr. Zhang Zhijian, former ambassador and deputy representative of the Chinese government at the 2010 Shanghai World Expo;
-Ms. Xia Yongfang, assistant director of the Shanghai Municipal Foreign Affairs Office; and
-Mr. Sun Weimin, assistant director of the Shanghai Municipal Foreign Affairs Office and director-general of the Protocol Department of the Shanghai World Expo Coordination Bureau.
As a company with a strong sense of social responsibility, Grouphorse assists the development of BFSU and its Graduate School of Translation and Interpreting through its establishment of the Grouphorse Education Fund and the Grouphorse Scholarship to finance students with outstanding academic performance. Grouphorse is also the only language service partner among the supporting partners of One Foundation, one of China's most influential non-governmental charity organizations. (http://www.onefoundation.cn/index.php?g=home&m=partner&a=index&id=64)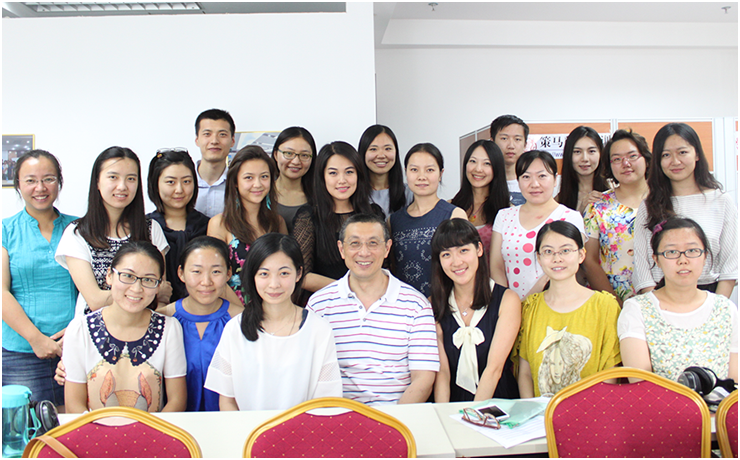 Dr. Kevin Lin (middle), Lead Interpreter (Chinese) of the Foreign Office of the UK Government, and Cema trainees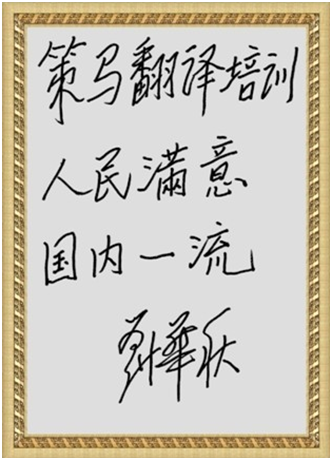 Inscription written by Mr. Huaqiu Liu, former Division Director of
the Office of Foreign Affairs Group of the CPC Central Committee